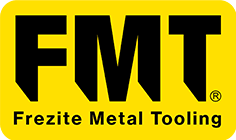 Since it was founded, FREZITE has always been dedicated to developing products with a high value add, producing high precision tools. The opportunities provided for rapid growth and in the automotive and aerospace sectors, along with 30 years of experience, led to the Metal Division becoming autonomous and the creation of the brand, FMT - Frezite Metal Tooling.

Incorporating a philosophy of innovation and technology, FMT has a centre for research and development and it believes in maintaining a close relationship with its customers. In a spirit of permanent advance and achievement, FMT has consolidated its presence in the international market. With branches in Spain, Brazil, the Czech Republic, France, Germany, the United Kingdom and Slovakia, the company is represented in the main markets. Following the recent opening of branches in Poland, and in Romania in 2011, the brand is now represented at nine international locations.

FMT uses the latest work concepts to produce innovative tools, developed to suit the needs of its customers, and it offers highly qualified technical support 24 hours a day.