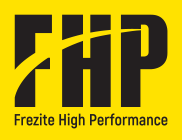 Set up in Porto, since 2007, FHP – Frezite High Performance (before HPS Lda) continues the FREZITE Group strategy of growth based on the diversification of its offer in added value technologies, expanding its portfolio of products to the Space.
The company aims to offer to the market products in the field of thermal protection systems, metallic structures and advanced composites for aerospace and terrestrial applications.
Besides the know-how in the integration of mechanical and thermal hardware for aerospace applications, FHP designs, manufacture, assembly and assure the quality control, bets on being the ideal partner to work to space, aeronautic, automotive and cryogenic industries.

Working on projects with the largest Space Systems Integrators (LSI) in Europe, the company provides thermal insulation or multilayer insulation (MLI), mechanical components in metal and composite materials, special equipment to support the assembly of satellites and folding structures. Customized solutions that are in preparation, or already aboard of more than 12 missions, among which stands out the ExoMars2016 Mission to the planet Mars, which opens new horizons for the Group and the World.